"Beauty's easy. Modeling is not just about being pretty."

-Tyra Banks
Aarti Rajput Mohansingh is one such aspirant and a gem in the growing industry of fashion and modelling. Born on 15th November 1992 Aarti is a model and blogger currently residing in Ahmedabad.
She has been into the field of modeling since last two n half years. Aarti began her journey like any other teenager trying to explore things and find self. She pursued her B.Com and Fashion Designing simultaneously. Her designing interests and projects lead her into modeling.
The participation in a beauty pageant was the opening point of her Modelling and Blogging career. Aarti participated in Miss Ahmedabad for the first time and held the position of 1st runner up. She was excited and amused in this world. This win worked its domino effect and she participated in one after other such competitions and entered the glamorous industry.
Since the beginning of her modeling career, she utterly believed in professionalism and has maintained the integrity of her portfolio and the work she offered. She rose to her passion and started exploring this domain.
Her dusky complexion was an issue for her in the early days of her journey but her work, professionalism, and dedication proved her worth. She has always been inspired by the tiniest things in her life. She learned a lot from people around her. Being a part of the production team for movie Raees, she noticed great actors like Shahrukh Khan and Nawazudeen Siddiqui and has learned a lot from that experience.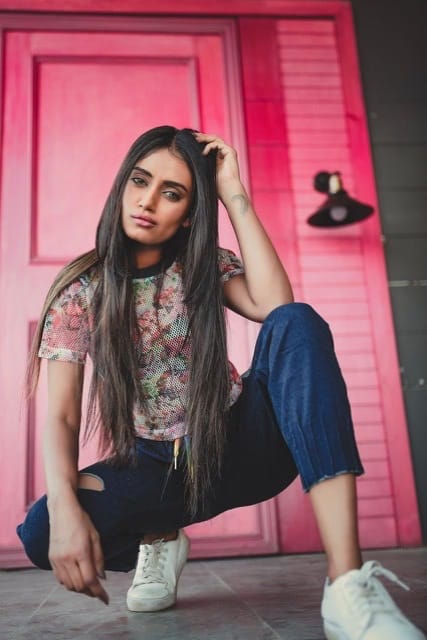 The early days of her journey had been a huge phase of struggle wherein she had to work on a lot of collaborations, product reviews, etc for free. Gradually she was getting paid for them and was also being portrayed on hoardings.
She loves that every day she gets to explore something new about herself; her face, her body and a know a different self. Every day brings new explorations and experimentations ranging from makeup, clothes to the whole look.
"Hard work is good but creative hard work is better!"

aarti rajput
These whole journey has helped her learn one important thing and that is to love one's true self, to explore, embrace and accept self flaws, weaknesses and strengths. She firmly believes in self love. One should love self the way one is more than anything else in the world. Her amazing journey had taught her to love herself to the core and embrace what she owns.
She leaves everyone with a simple tip – Talk to yourself in the mirror and say that you're amazing the way you are and doing your utmost best.
Her confusion and exploration period of 6 to 7 months had always been a point of concern for Aarti's family. They always thought that she was unsure and not serious about her career and future ahead. Gradually she started earning the fame and things seemed to settle in a steady place. Her family has been the best supporters in the journey. To being famed in more than 100 pictures in various newspapers to being on hoardings, Aarti's family has always been excited to see her grow.
In future Aarti aspires to become a well-known model in the industry and may even enter the glamorous world of Bollywood and leave her mark there as well.