Kanishk Jinoni, Arpit Jinoni, and Nirmit Jinoni, three brothers co-founded Nature's palette. Nature's palette is a One-stop healthy and organic supermarket where one can find everything a healthy diet would need. You ask for it and Nature's palette has it! Nature's Pallete – Kanishk's way of Entrepreneurship describes Kanishk Jinoni and his co-founders' journey in starting a healthy food store.
What led to Nature's Palette: The very cause
After completing Post-graduation, for about a year, Kanishk worked in the well-established stainless steel business of his father. However, there was a major inclination towards agriculture. And as there were few tumor cancer cases in the family it made he research the root cause behind it by following his inclination.
He realized that there are brands that are providing healthy products but getting them is a bit tough. They are not available in one place where one can easily go and buy them. And also there is a lack of awareness amongst people of what actually is healthy. All these observations led to the germination of the seed of Nature's palette.
The process of starting Nature's palette
Nature's Pallete is an attempt to make you dive deep into the complete process of Nature's Palette. Entrepreneurship was in the year 2019 that they started the research. Post that came the part of calling up brands pan India and getting their products to further given for testing to friends and relatives. And finally, creating a catalog of thousands of brands.
Mission and Vision of Nature's Palette
"Making sure the healthy product reaches every home. Organic healthy products are accessible to all in a feasible manner. That is to say, they shouldn't have to run errands to find one thing at one place and another at another. We are looking forward to building a place where they can trust that whatever they buy from here is healthy." says Kanishk.
And while sharing about the mission, he said, it is not just to give our brand but instead give what is the best available! We wanted to create something which is not good just for the Taste but also good for the health.
The crux of the journey till now!
With shares of highs and lows, the journey has been completely fantastic says Kanishk. And one of the Best parts of the journey is being a part of different communities and upskilling oneself even in the fields he had no idea of.
Kanishk further added, "When you work relentlessly you have to go on the roads you never thought of like shifting to an online store which would want you to grow technologically, but when you don't give up you upscale immensely!"
Nature's palette wow factor
The major consumer base of Nature's palette includes housewives who aren't tech-savvy. Hence, along with applications, Whatsapp is the channel they receive orders from.
This just doesn't end here. Nature's palette is so customer friendly that they have customers who video call to place the order. That is the variety of customers Nature's palette caters which Kanishk realized when he met his target audience.
Challenges faced and resolved by the Nature's Palette
In the talks with Gujpreneur Kanishk shared, starting a new thing is always a huge challenge because people yet aren't aware of what you have to offer them. However, recognizing the target audience and being in touch with them helps one resolve the challenge in Entrepreneurship.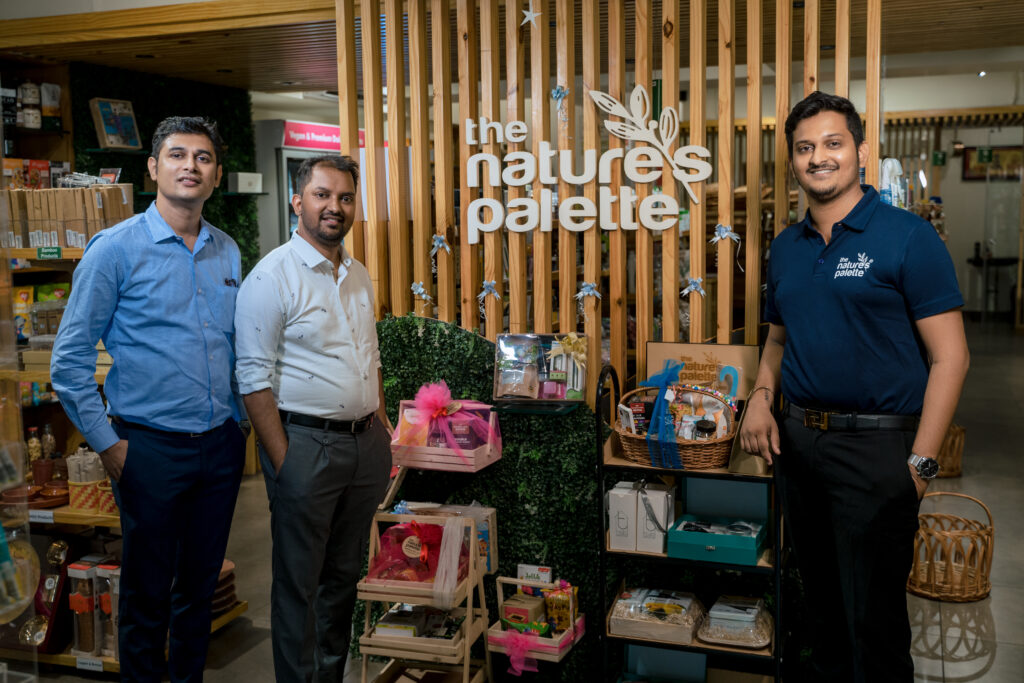 That Favorite kind of mistake ft. Kanishk Jinoni
Kanishk Shared, "We tasted success early and that excitement made us start another retail shop in just one year. However, it led to Bleeding first and learning later. Learning of waiting, and weighing, instead of going just with exuberance."
Kanishk's Idea of Success
"Creating an identity and making a positive difference in society."
There is a major shift in the way people know me, earlier it was different now it is because of the work done in nature's palette.
Adding further, Kanishk shared that he has faced circumstances when people have walked up to him and thanked him for the positive impact because of Nature's palette in their life which fills him with extreme satisfaction. Kanishk Jinoni says Entrepreneurship is solving a problem.
Not so a Normal day for Kanishk Jinoni
The day includes working right from 10 AM in the morning to 9 PM in the evening and making sure there are at least two team briefings, one for the products and another for the entertainment.
He makes sure he meets the customers who are there in the store to know what they are thinking.
Quote keeps Kanishk going to says for Entrepreneurship
"Learn, execute and achieve."
The inspiration he looks up to
Anupam Mittal inspires him as he tried to create something so different with sagaai.com and Shaadi.com. And even after the failure of sagaai.com, he did not stop. His grit makes Kanishk persistent and hopes to crack that code of not giving up.
Tidbits for the aspiring entrepreneurs
Be passionate, motivated, and eager to learn. Three attributes are extremely important for any person wanting to be an entrepreneur in entrepreneurship.
The attribute that makes Kanishk stand out from the crowd
"I will recognize a challenge and do my best to resolve it as if my life depends on it.", says Kanishk when asked about what makes him stand out from the crowd.
For more such stories like Nature's Palette; Kanishk's way of Entrepreneurship, explore Gujpreneur.
Stay updated with us on Facebook & Instagram @Gujpreneur.