Sahil got a taste of the enthralling business world when most of us were still in school, at the tender age of 14 . His first venture was selling boxed momos on the streets of India. He did not even complete his graduation as his business needed his 100% attention. Besides this, Sahil worked with an IT company as a business development person also.
Sahil realized the boring shackles of the IT industry were not meant for him.
He then decided to re-explore his business roots and re-entered the food industry but this time instead of momos, the coffee industry caught his eye.
After completing his preliminary market research, he found a huge gap in the coffee industry. There was a huge demand for freshly brewed, aromatic coffee. However, most brands only catered to the market segment that consumed premixed powder coffee. The few that did offer freshly brewed coffee, came with a hefty price tag. As a result, an average Indian middle class consumer was missing out.
From here budded the idea of THEKA, a brand of freshly roasted & brewed coffee for the Great Indian Middle Class.
THEKA, has a mission to take the aromatic coffee experience to every household PAN India!
They are a huge hit among their existing customer base and are aggressively expanding since the last 4 years!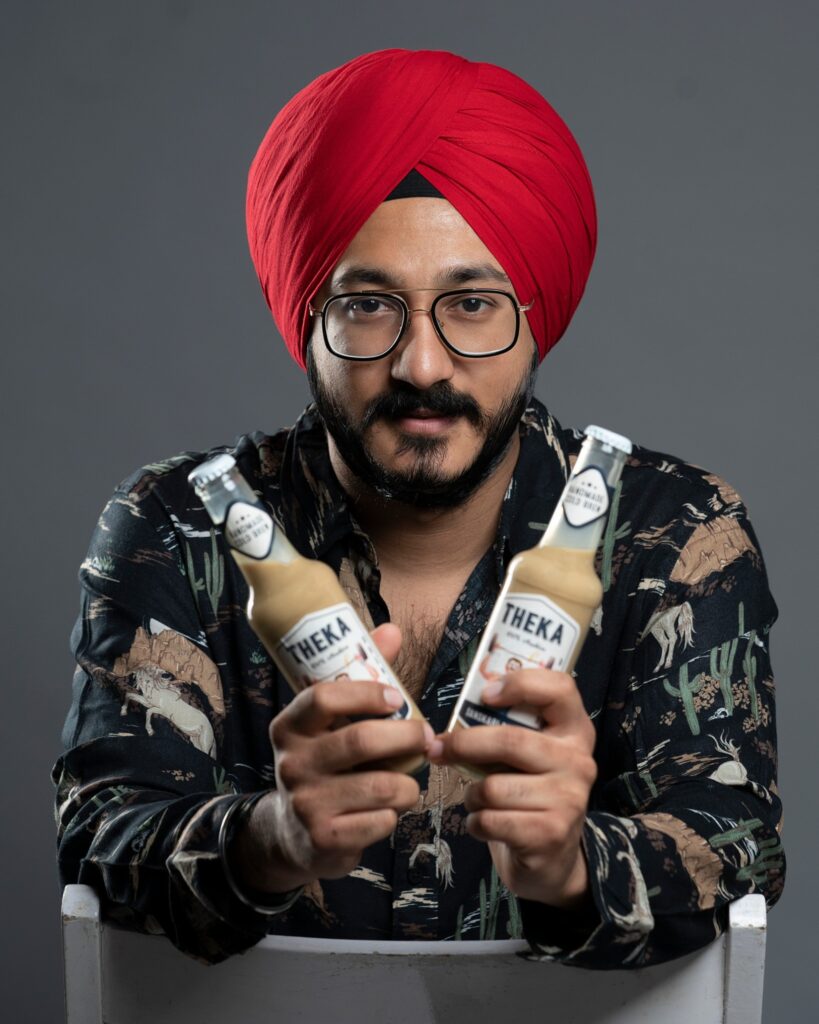 The Thorny Path To Glorious Success
When Sahil was asked about his journey to becoming the Coffee King of India one day, and what he would change if he could, he simply said NOTHING!
'The journey had its own pitfalls, we faced major challenges but we have loved it so far'
Sahil believes the journey has been rock solid because of the mission and vision the team has for the brand.
They had already started growing across 14 locations in India. But when the pandemic hit, all the stores had to be closed down and they took a huge financial hit. This still wasn't enough to deter Sahil from his dream. He believed in the brand. He kept pushing.
When they reopened post pandemic, Theka had lost all the outlets the brand had.
Sahil & his team gave Theka a new life in the post covid world, powered by their never ending drive to create a brand that resonates with every Indian.With 9-10 months of endless hard work they have now managed to reach Shark Tank India, the biggest platform for Indian entrepreneurs. His idea hit the judges right away, and it became successful also.
But according to Sahil, the biggest milestone is not going to Shark Tank or having crores of business.
Theka's greatest milestone till date was keeping their dream alive through all the covid turbulence.
'The biggest challenge is to beat the opinions or judgments of others. Even you at some stage overthink the process, so the biggest challenge is to have faith in yourself even when people have contrasting opinions'
Learning from the idol is the biggest achievement
Sahil worked with his long-time idol Mr. Swarap Sitaram. His dream came true when Mr. Swarap offered him a partnership as well. During the journey Sahil has imbibed a lot of value from him & is already implementing them to grow Theka further!
Successful idea behind theka coffee
Theka is already profiting in crores. Sahil's idea of success is to go from one failure to another, without losing enthusiasm for the work or his brand. Learning is a very important quality in anyone, learning new things in entrepreneurship and teaching or passing on them to people is one of the great qualities that can make you successful. Follow Sahil on Instagram.
'Never give up, enjoy the process, and love what you do no matter what!'

Sahil
A Typical Day In The Life
Most of the day Sahil spends working. His primary focus now is to expand the business. Promoting, pitching investors and keeping the team motivated while tending to Theka's needs takes up the majority of his time.
His biggest inspiration is Gary V as he is very positive and has a positive outlook towards everything. Sahil talks a lot about staying motivated and keeping his focus on the goal no matter what others say.
Did Sahil never get demotivated?
Not surprisingly, the entrepreneur did succumb to demotivation and negative self talk a number of times. But what restores his energy is Music. It's a therapy for him. It lightens up his mood & helps him think clearly.
The only advice for aspiring entrepreneurs is
'Always start small. Scale quickly. Be affordable. Work hard. And never compromise on quality'
Credits – Damini Patel
To read more such inspiring stories follow our page gujpreneur and also subscribe to our blogs on www.gujpreneur.com