"Do What You Truly Believe In. And Trust the Process."

-Nachiket Desai
A successful business is the one with a good idea. And a good idea is the one you truly believe in. This is the key attribute of a successful Gujpreneur. Nachiket Desai, the owner of Yellow Filter Productions, believed in such an idea for his business. And today he is a proud Gujpreneur of one such business.
Films, Brands and Production – Nachiket Desai's journey
With a background in Film production, Nachiket Desai is in the business of Ad films & Corporate films since almost a decade now. He took his first professional assignment during his final year of graduation. This assignment was with a film production house based in Ahmedabad that made ad films for brands. The assignment took him through the fascinating creative process followed by the marketing aspects to it. By the time the assignment was finished, Nachiket enrolled for a certification course at Whistling Woods – the renowned film, communication and creative arts institute. There, he learnt theories of film production and all the little aspects related to it.
Upon completion of the course, he worked for a while in the film industry and on the brand-side (client's side) as Advertising Executive. This helped him to understand both the Advertising/Marketing and Film/Production industry well. It also helped him to build networks in the industry.
Believe in Your Idea – A Glimpse
Exploring multiple aspects of the industry built a professional and creative insight for Nachiket. The Gujpreneur developed a fresh approach towards Brand-building exercises. His confidence in himself grew tremendously, as well.
This is when Nachiket started thinking of an independent resort in the field of Advertising and Film Production. He believed that his idea was good. Most importantly, he felt that he was ready to take this plunge. This belief led him on a path of his own. Over the years it has been a journey that he cherishes the most in his life.
However, things did not fall into place easily. Nachiket relives his nostalgia when he tells us this. "It is an interesting story. I was in Goa with my friends. Suddenly, on one day of the trip, I received a call from Mr. Niraj Shah, head of IDOgraph (a well-known branding agency). He asked me if I will execute a photoshoot production for Asopalav. After giving it a thought, I said yes. That moment is still fresh in my mind. And it certainly marked the beginning of my journey as a Gujpreneur."
Talking about his journey over the past decade, Desai has an amusing take on it. He feels that the journey has been extremely interesting and engaging. Struggles are never-ending and failures are seen as well. But the moments of success steal the show. That's the kick about it.
But this is not it. The support of his family and friends holds immense importance in his journey too. He mentions that some of the good projects that he has worked on have been possible because of the referral of his friends (personal and professional, both). Furthermore, the Gujpreneur is extremely grateful towards his family. The industry he works in consists of irregular dinner schedules, less holidays, and many late nights. This has often led him to miss a lot of important social functions. In spite of this, the support of his family has been truly unconditional.
The Best Moment in the Industry Till Now
Success is meant to be cherished and reminisced, isn't it? And so, we asked the Ahmedabad-based lad to tell us one such moment. Nostalgically, he said, "We had won the mandate of making 40 films for Dupont India. This mandate had to be filmed across 6 states within a time span of 3 months. Logistically, it was a very challenging project. Moreover, we were supposed to make those videos in regional languages like Bengali, Kannada and telugu. We built a strong team during that phase, and pulled it off really well. Most importantly, the client was happy and we still make films for them on regular intervals. As they say, good business is good for business."
Nachiket's Brainchild – Yellow Filter Productions
Yellow Filter Production was founded by Nachiket Desai in the year 2014. The sole proprietor company is an independent production house for half a decade. It holds expertise in making corporate films, digital films and photoshoot production.
Nachiket believes that 'One is as good as the team'. And so, Nachiket is thankful to have a good team to work with. The team of Yellow Filter Production is based across two cities – Ahmedabad and Bengaluru. There are 9 people in all, 7 in Ahmedabad and 2 in the Bangalore office. Most of them have a background of film school and that helps the team while making films. Along with it, they are highly creative and skilled. These enthusiasts are passionate about their work. They are always prepared to go the extra mile for every client to deliver extraordinary and influential work.
So far, this team has executed more than 150 films and executed more than 25 photoshoot campaigns for elite brands. The clientele of the company includes brands like Dupont, TATA, Zydus Wellness, Asopalav and Future Generali.
Talking about the future plans for the company, Nachiket said, "We have made a short film named 'FUDAK' which is going to be released on OTT platforms soon. Apart from that, making of feature film and a web-series production which is already under way. Tapping of bigger brands from diversified sectors and crafting more creative corporate films and digital films is what we are aiming at."
Likes, Dislikes and Future of the Industry
Every industry has its sides of the coin. Similarly, every individual has an experience of their own. Nachiket has spent nearly a decade being a Gujpreneur and a passionately creative individual in this field. And so, we the team at Gujpreneur.com were keen to know his take on this industry.
Desai tells us that he loves the creative process. Unlike other industries, the Advertising and Film industry has no boundaries for creativity. One can think beyond the sky and above the space. One can paint a tree blue and a flower brown. There is no obligation towards right or wrong. Everything depends upon the way the target audience receives the work.
Whereas, the budget constraint is a limitation he dislikes. This often limits the execution of a highly-innovative idea. However, Nachiket now considers it as another challenge. This way, he often gets through it easily.
A sign of a successful Gujpreneur is his/her vision of the future, for the industry and the company. This vision helps one to set goals and march ahead in a definitive direction. Most importantly, towards the road of success. Desai strongly says that the future of his industry lies in – Mass Production. And in terms of digital content, it is Videos. According to him, good content can come out in a less budget with the help of mass production of videos. He notices that every brand/celebrity is slowly turning towards content generation in video format. A quick turnaround time for any project is highly important as well. Gone are the times when brands were convinced to pay in crores for 60 seconds TV commercials.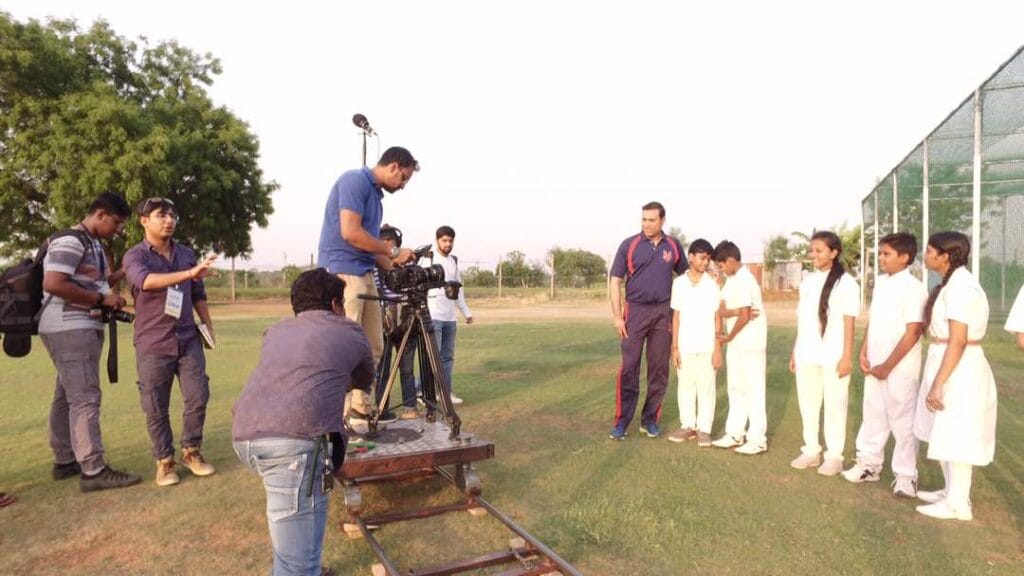 Ethics, Learning and Tips from the Gujpreneur
Wine and Gold are more valuable when they are older. Similarly, every established Gujpreneur has valuable knowledge gained over their years of success and failures. This knowledge can be truly useful for the budding ones to build a strong and successful business in their chosen industries.
Here are some pieces of knowledge from Nachiket Desai:
Failures are quite important.
Nachiket feels that they give a clarity on what must not be done in order to produce the best work. Recalling a story of his own, he says "I took a risk in my business that went wrong. I wanted to expand the services by venturing into Virtual Reality (VR). And so, I invested into it. Unfortunately, the market was not prepared to receive this format. The whole idea eventually became dead." But now Nachiket is cautious before taking the risks. And thus, he has avoided many puddles over the years.
Do what you truly believe in.
This is extremely essential. Because eventually, no one is in the same shoes. And that is a power. Don't stop. Keep going until the desired destination is reached. This is the key.
Transparency in the Advertising/Film industry is a USP.
This is one of the most basic ethics that Desai follows. Because in the Advertising/Film industry, this is rarely seen. And so, this ethic can be turned into a USP. Moreover, the clients are happier this way and often bring in more projects to work on.
Reading Books can be quite helpful.
Whenever a mantra of inspiration is required, reading books can be really helpful. These books can be in the genres of Self-help/Business/Management that equips one with fresh insight into life, business and future strategies.
Keep Getting Inspired and Motivated from Gujpreneur.com
We, the team of Gujpreneur, are working hard to bring you useful inspirational and motivating stories from the owners of successful businesses. We hope that you cherish them and learn a thing or two to build something of your own. To know more, check out Gujpreneur.com. You can also check us out on Instagram and Facebook @Gujpreneur. Happy Reading!